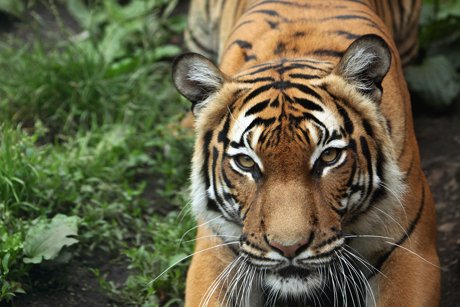 Journey around the world without leaving Alexandria real estate. At the Alexandria Zoo exotic lands are brought to life around each corner. Exhibits are divided into geographic sections allowing visitors to travel the globe in this relatively small space.
Home is where the heart is. Locals can explore the backyard of their Alexandria home in the Louisiana Habitat. Here a natural setting houses black bear, alligator, red wolf and more. A piece of Latin America is nearby in the Land of the Jaguar. Imposing Mayan ruins beckon adventurers closer. Pathways lead past vibrant flamingos to where the jaguar resides. Meet monkeys, birds and a giant anteater before seeking out the amazing jaguar. Around the bend in Asia, the Malayan Tiger is ready and waiting. This awesome animal is critically endangered and truly a majestic sight to behold. Folks going down under for an Australian Walkabout will surely hear the laughter of the kookaburra. African Lions roar in the Africa zone as the pride saunters about under a 17 foot waterfall.
The Future Is Bright Near Alexandria Homes
Future zoologists and conservationists are in the making at the Alexandria Zoo. Since the doors opened in 1926, this property has been teaching the importance of conservation and caring for Mother Earth's animals. Outreach programs bring the zoo out into the arms of the community. Staff works well with teachers ensuring children get the most from field trips. Summer Safari Camp provides an opportunity for youngsters to visit with keepers, encounter animals and go behind the scenes.